Our 19th ICHSA season launches in January, and we can't wait to see what our competitors will bring to the stage! This year, there are more than 3,500 performers in more than 225 groups from high schools across 29 states competing in our tournament. We are thrilled to see so much talent returning to ICHSA in such great numbers, and we are humbled to provide this experience for so many once again.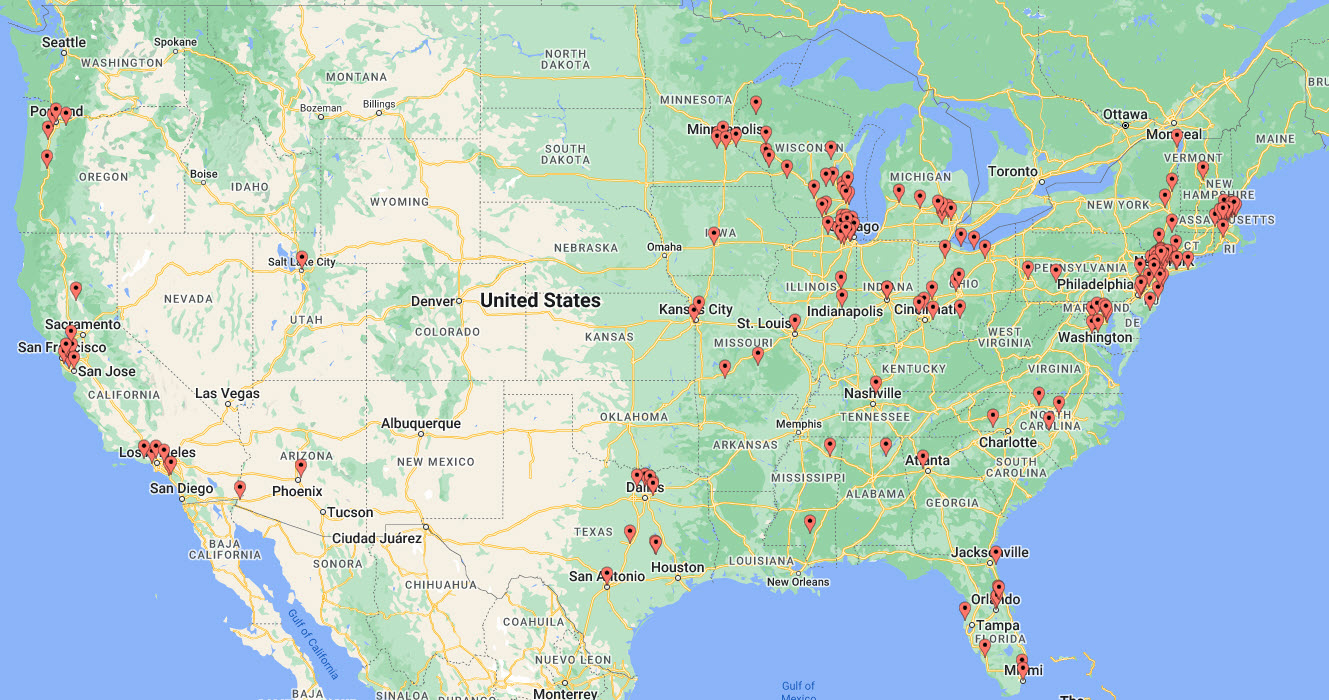 Seven regions will comprise this year's ICHSA tournament: Great Lakes, Midwest, Mid-Atlantic, Northeast, South, Southwest, and West. Most regions will have quarterfinal rounds, however in the Southwest there will only be a semifinal. In the Great Lakes, Mid-Atlantic, Midwest, and Northeast regions, the top two groups from each quarterfinal will move on to the semifinal. In the South and West regions, the top three groups from each quarterfinal will move on to the semifinal. 
In order to be accessible and equitable, in all regions with fewer than five quarterfinals (resulting in fewer than our maximum 10 groups at semifinals), there will also be a semifinal wildcard round, allowing for additional groups to advance to the semifinal. This applies to the Midwest, Northeast, South, and West Regions. The Great Lakes and Mid-Atlantic regions will not have a semifinal wild card round, as the five quarterfinals will advance a total of 10 groups to semifinals.
Events will begin in mid-January and continue through late March. Tickets for most events go on sale on December 1. Follow us on Facebook and Instagram for a reminder! Please remember that many events do sell out in advance, so we recommend ordering tickets in advance of a show.
Please see our acceptances and tentative quarterfinal group placements for the 2024 ICHSA below. If you applied and don't see your name on the list, or if you have any questions about your placement, please contact ICHSA Director Elise Hackl-Blumstein at [email protected].
Any group that chooses to withdraw by December 1, 2023 will be refunded their full entry fee. Otherwise, we will assume you've accepted your invitation to compete at your assigned event.
Congratulations to our accepted groups, and welcome to the 19th season of the ICHSA!
(Excited for the ICCA as well? Click here to see the 2024 ICCA Competitors!)

Please note that the lineups below are being posted on November 15th and are subject to change. They will not be updated here if they do change. Please see our events page for the most up-to-date listings of our events and their participants. All events that have been scheduled so far will be posted there by December 1st. Thanks!
---
The 2024 International Championship of High School A Cappella Lineup
Regional Breakdown:
Great Lakes, Mid-Atlantic: 5 Quarterfinals, top 2 advance to semifinals. 1 semifinal round, semifinal winner advances to Finals.
Midwest, Northeast: 4 Quarterfinals, top 2 advance to semifinals, semifinal wildcard round, wildcard winner advances to semifinals. 1 semifinal round, semifinal winner advances to Finals.
South, West: 2 Quarterfinals, top 3 advance to semifinals, semifinal wildcard round, top 3 wildcards advance to semifinals. 1 semifinal round, semifinal winner advances to Finals.
Southwest: 1 Semifinal round, semifinal winner advances to Finals
Finals Wildcard: All 2nd and 3rd place groups from each semifinal will be able to compete in the Finals Wildcard round, where the top group will advance to the ICHSA Finals at The Town Hall in New York City!
____________________________________

GREAT LAKES REGION
Quarterfinal: Saturday, February 3, 2024, Galesville Performing Arts Center, Galesville, WI
Encore | Lakeville South High School, Lakeville, MN
Harmonix | Jordan High School, Jordan, MN
G-E-T Vocal Point | Gale Ettrick Trempealeau High School, Galesville, WI
Good Old A Cappella | Beaver Dam High School, Beaver Dam, WI
Incognito | Mayville High School, Mayville, WI
Out of the Blue | Gale Ettrick Trempealeau High School, Galesville, WI
Red Knotes | Benilde-St. Margaret's School, Saint Louis Park, MN
The Chords | Brookwood School District, Ontario, WI
Tonal Recall | Shell Lake High School, Shell Lake, WI
Quarterfinal 2: Saturday, February 10, 2024, Oak Creek Performing Arts Center, Oak Creek, WI
Beloit Turner Overdrive | Beloit Turner High School, Beloit, WI
CYC Out | Clinton Junior Senior High School, Clinton, WI
FOCUS A Cappella | Port Washington High School, Port Washington, WI
G-Harmony | Greendale High School, Greendale, WI
Genesis A Cappella | Brookfield East High School, Brookfield, WI
Knight Club | Oak Creek High School, Oak Creek, WI
Major Detour | Buffalo Grove High School, Buffalo Grove, IL
The Overtones | Barrington High School, Barrington, IL
St. Croix Sound | Prescott High School, Prescott, WI
Treblesome Teens | Hortonville High School, Hortonville, WI
Quarterfinal 3: Saturday, February 17, 2024, Oak Creek Performing Arts Center, Oak Creek, WI
Acafellaz | Hinsdale South High School, Darien, IL
Chi-Capella | The Chicago High School for the Arts (ChiArts), Chicago, IL
Colla Voce | West High School, Madison, WI
Ladies Knight | Oak Creek High School, Oak Creek, WI
Limited Edition | Port Washington School District, Port Washington, WI
Nothin' But Treble | Loyola Academy, Wilmette, IL
Resolve | Niles West High School, Skokie, IL
Secondary Dominance | Hinsdale South High School, Darien, IL
SolTown A Cappella | Germantown High School, Germantown, WI
Unaccompanied Minors | Brookfield East High School, Brookfield, WI
Quarterfinal 4: Saturday, February 24, 2024, Buffalo Grove High School, Buffalo Grove, IL
Bella Voce | Prospect High School, Mount Prospect, IL
Graftonics | Grafton High School, Grafton, IL
IMPACT | Youth Choral Theater of Chicago, Wilmette, IL
Minor Renovation | Buffalo Grove High School, Buffalo Grove, IL
Noteworthy | Hinsdale South High School, Darien, IL
Sound Bytes | Prospect High School, Mount Prospect, IL
The Angelics | Plainfield North High School, Plainfield, IL
Treble Threat | Buffalo Grove High School, Buffalo Grove, IL
VHS (Vocal Harmonies Supplied) | Urbana High School, Urbana, IL
Vocal Point | Lockport Township High School, Lockport, IL
Quarterfinal 5: Saturday, March 2, 2024, DeKalb High School, DeKalb, IL
Business Casual | Amos Alonzo Stagg High School, Palos Hills, IL
Gold Nation | Harold L. Richards High School, Oak Lawn, IL
Hawkappella | Bartlett High School, Bartlett, IL
Enharmonic Fusion | DeKalb High School, DeKalb, IL
Mod21 | Illinois Mathematics and Science Academy, Aurora, IL
Noteworthy | Eau Claire Memorial High School, Eau Claire, WI
Off the Record | Lockport Township High School, Lockport, IL
The AHS Accidentals | Arcadia High School, Arcadia, WI
The Accidentals | Southwest Christian High School, Chaska, MN
VCR (Vocal Chords Required) | Urbana High School, Urbana, IL
Semifinal: Saturday, March 23, 2024 at the Pabst Theater, Milwaukee, WI
Featuring the top 2 groups from each quarterfinal
____________________________________

MID-ATLANTIC REGION
Quarterfinal 1: Saturday, January 27, 2024, Ramsey High School, Ramsey, NJ
Highlands Belles | Northern Highlands Regional High School, Allendale, NJ
Highlands Harmonics | Northern Highlands Regional High School, Allendale, NJ
The Ram Jams | Ramsey High School, Ramsey, NJ
Rebel Remix | Howell High School, Farmingdale, NJ
Rebelation | Howell High School, Farmingdale, NJ
Reverb | Howell High School, Farmingdale, NJ
The AcaBellas | Ridgewood High School, Ridgewood, NJ
The Maroon Men | Ridgewood High School, Ridgewood, NJ
The Ramsey Blues | Ramsey High School, Ramsey, NJ
Quarterfinal 2: Sunday, January 28, 2024, Northern Highlands Regional High School, Allendale, NJ
Bergen Sound | Bergen County Academies, Hackensack, NJ
Highlands Voices | Northern Highlands Regional High School, Allendale, NJ
Mpulse | Montville Township High School, Montville, NJ
Rhapsodies | Ridgewood High School, Ridgewood, NJ
Soulfege A Cappella | Millburn High School, Millburn, NJ
SoundXplosion | Cresskill High School, Cresskill, NJ
The Nocktaves | Pequannock Township High School, Pompton Plains, NJ
Treble Makers | West Morris Mendham High School, Mendham, NJ
Quarterfinal 3: Saturday, February 3, 2024, Bayonne High School, Bayonne, NJ
Amandala | Highland Park High School, Highland Park, NJ
GLissando | Governor Livingston High School, Berkeley Heights, NJ
LumeNAtion | Newark Academy, Livingston, NJ
Remix | Montclair Kimberley Academy, Montclair, NJ
Scarlet Sound | Neptune High School, Neptune, NJ
The Bee's Knees | Bayonne High School, Bayonne, NJ
The Foxy Jukebox | Moorestown Friends School, Moorestown, NJ
The Spartones | Steinert High School, Hamilton, NJ
Varsity Vocals | Carteret High School, Carteret, NJ
Vocal Resolution | Highland Regional High School, Blackwood, NJ
Quarterfinal 4: Saturday, February 10, 2024, St. Charles High School, Waldorf, MD
Evolve | Chesapeake High School, Pasadena, MD
Free Verse | Central Catholic High School/Oakland Catholic High School, Pittsburgh, PA
Harmonix | Broadneck High School, Annapolis, MD
Nobility | North County High School, Ferndale, MD
Screechin' Eagles | North Point High School, Waldorf, MD
SOL | Severna Park High School, Severna Park, MD
Spartones | St. Charles High School, Waldorf, MD
Takin' Charge | Lackey High School, Indian Head, MD
The Acatonics | Thomas S. Wooton High School, Rockville, MD
Quarterfinal 5: Saturday, February 24, 2024, Cherry Hill West High School, Cherry Hill, NJ
Talon Tones | River Hill High School, Clarksville, MD
aChoired Harmony | Egg Harbor Township High School, Egg Harbor Township, NJ
Dynamic Pressure | Forest Hills Junior-Senior High School, Sidman, PA
Fermata | Cherry Hill West High School, Cherry Hill, NJ
Frequency | Western Almanace High School, Elon, NC
Men of Note | Cherry Hill West High School, Cherry Hill, NJ
Stay Tuned | Cherry Hill East High School, Cherry Hill, NJ
The B-Sharps | Barnegat High School, Barnegat Township, NJ
Semifinal: Saturday, March 23, 2024, Northern Highlands Regional High School, Allendale, NJ
Featuring the top 2 groups from each quarterfinal
____________________________________

Quarterfinal 1: Saturday, February 10, 2024, Skyline High School, Ann Arbor, MI
Calamity | Howell High School, Howell, MI
Chicapella | Brighton High School, Brighton, MI
Classicality | Howell High School, Howell, MI
Da Capo | Brighton High School, Brighton, MI
Firestorm A Cappella | Metro Detroit Community Group, Livonia, MI
From The Top | Northview High School, Grand Rapids, MI
Major VI | Novi High School, Novi, MI
Notetorious | Brighton High School, Brighton, MI
Skyline Blues | Ann Arbor Skyline High School, Ann Arbor, MI
The New Group | Howell High School, Howell, MI
Quarterfinal 2: Sunday, February 18, 2024, Liberty High School, Kansas City, MO
16th Street Soul | Warren Central High School, Indianapolis, IN
High Tide | Tupelo High School, Tupelo, MS
JayBlues | Liberty High School, Liberty, MO
Maximum Forte | Charleston High School, Charleston, IL
Nixapella | Nixa High School, Nixa, MO
Reign | Valley High School, West Des Moines, IA
SoundProof | Various, Overland Park, KS
The Cat's Meow | Licking High School, Licking, MO
Valholla | Parkway North High School, St. Louis, MO
Viva Voce | Ladue Horton Watkins High School, St. Louis, MO
Quarterfinal 3: Saturday, February 24, 2024, Hilliard Bradley High School, Hiliard, OH
Blue Kids on the Block | Hilliard Davidson High School, Hilliard, OH
ECHO | Hilliard Bradley High School, Hilliard, OH
Harmonics | Buckeye High School, Medina, OH
Knight Life Acappella | Van Buren High School, Van Buren, OH
Orion's Belt | Grand Ledge High School, Grand Ledge, MI
Phoenix | Chaminade Julienne Catholic High School, Dayton, OH
Soundsation | Vermilion High School, Vermilion, OH
Titan Harmony | Arsenal Technical High School, Indianapolis, IN
UPBEAT | Buckeye High School, Medina, OH
Vega | Chaminade Julienne High School, Dayton, OH
Quarterfinal 4: Friday, March 1, 2024, Harrison High School, Harrison, OH
Above the Noise | Olentangy Orange High School, Lewis Center, OH
Alpha | West Clermont High School, Batavia, OH
Ars Nova | The Miami Valley School, Dayton, OH
DYNAMIX | William Henry Harrison High School, Harrison, OH
Enharmonix | Hamilton High School, Hamilton, OH
Polarity | Waverly High School, Waverly, OH
Take Note | William Henry Harrison High School, Harrison, OH
Touch of Class | Port Clinton High School, Port Clinton, OH
Voices | Lawrence North High School, Indianapolis, IN
WAVE A Cappella | Hilliard Bradley High School, Hilliard, OH
Semifinal: Friday, March 15, 2024, Harrison High School, Harrison, OH
Featuring the top 2 groups from each quarterfinal
____________________________________

Quarterfinal 1: Saturday, February 10, 2024, Plainview Old Bethpage John F Kennedy High School, Plainview, NY
Chock Full of Notes | Plainview Old Bethpage John F Kennedy High School, Plainview, NY
Drastic Measures | Plainview Old Bethpage John F Kennedy High School, Plainview, NY
Hummingnerds | Stuyvestant High School, New York, NY
Noteworthy | Plainview Old Bethpage John F Kennedy High School, Plainview, NY
On a High Note | Plainview Old Bethpage John F Kennedy High School, Plainview, NY
The Acafellas | Plainview Old Bethpage John F Kennedy High School, Plainview, NY
The B Sharps | Plainview Old Bethpage John F Kennedy High School, Plainview, NY
The Rolling Tones | Plainview Old Bethpage John F Kennedy High School, Plainview, NY
Under A Rest | Plainview Old Bethpage John F Kennedy High School, Plainview, NY
Vibe | Plainview Old Bethpage John F Kennedy High School, Plainview, NY
Vocal Point | South Glens Falls High School, South Glens Falls, NY
Quarterfinal 2: Saturday, February 10, 2024, Danvers High School, Danvers, MA
Dobbs 16 | The Masters School, Dobbs Ferry, NY
Falconize | Danvers High School, Danvers, MA
Tonal Chaos | Saugus Middle High School, Saugus, MA
18 Wheelers | The Wheeler School, Providence, RI
Fermata Nowhere | Stafford Middle School, Plattsburgh, NY
Luminescence | Marblehead High School, Marblehead, MA
The Jewel Tones | Marblehead High School, Marblehead, MA
Clay Pit Crooners | Belmont High School, Belmont, MA
Rhythm on Rye | Rye High School, Rye, NY
Dachords | Hanover High School, Hanover, NH
Quarterfinal 3: Sunday, February 11, 2024, Galvin Middle School, Wakefield, MA
Accent A Cappella | Lincoln Sudbury Regional High School, Sudbury, MA
NOTEorious | North Reading High School, North Reading, MA
Revolution | Conservatory of the Arts, Springfield, MA
The Crescendos | Chelmsford High School, North Chelmsford, MA
The NSHS Newtones | Newton South High School, Newton, MA
The Photosymphonizers | Advanced Math and Science Academy Charter School, Marlborough, MA
The Thursdays | Chelmsford High School, North Chelmsford, MA
Tonal Eclipse | Millbury High School, Millbury, MA
Voices of Steel | Wakefield Memorial High School, Wakefield, MA
Voices ReChoired | Marlborough High School, Marlborough, MA
WitchPitch? | Salem High School, Salem, MA
Quarterfinal 4: Friday, February 23, 2024, EMPAC, Troy, NY
For Good Measure | Mohonasen High School, Schenectady, NY
South Country Singers | Bellport Middle School, Bellport, NY
Stissingers | Stissing Mountain High School, Pine Plains, NY
The Nightingale | Ridgefield High School, Ridgefield, CT
Valkyries | Valley Central High School, Montgomery, NY
Voxtones | Valley Central High School, Montgomery, NY
Semifinal: Sunday, March 24, 2024, Mechanics Hall, Worcester, MA
Featuring the top 2 groups from each quarterfinal
____________________________________

Quarterfinal 1: Friday, February 9, 2024, UT Knoxville, Knoxville, TN
Crescenloe | Enloe High SChool, Raleigh, NC
Patatonics | WHite House Heritage High School, White House, TN
Perfect Intentions | Overhills High School, Spring Lake, NC
Sonic Edge | CCCEPA at Pebblebrook High School, Mableton, GA
Tonal Spectrum | Crest High School, Shelby, NC
Traces of Blue | Sumrall High School, Sumrall, MS
VocalEase! | Albertville High School, Albertville, AL
Quarterfinal 2: Friday, February 16, 2024, Trinity Prep, Winter Park, FL
Acapocalypse | Pine Ridge High School, Deltona, FL
Act 1 | Chamberlain High School, Tampa, FL
After School Specials | Palm Harbor University School, Palm Harbor, FL
HyperOctave | Heritage High School, Palm Bay, FL
Rhapsody | Heritage High School, Palm Bay, FL
Sharkappellas | Ponte Vedra High School, Ponte Vedra Beach, FL
The A Cappella Group | Cypress Lake Center for the Arts, Fort Myers, FL
Titonics A Cappella | University High School, Orange City, FL
USchool Aquapella | NSU University School, Davie, FL
Vocal Society | Trinity Preparatory School, Winter Park, FL
Vocality | Boone High School, Orlando, FL
Semifinal: Saturday, March 23, 2024, Trinity Prep, Winter Park, FL
Featuring the top 3 groups from each quarterfinal
____________________________________

Semifinal: Saturday, March 9, 2024, Marcus High School, Flower Mound, TX
A-Side | A&M Consolidated High School, College Station, TX
Beyond | Heath High School, Heath, TX
Harmony | Belton High School, Belton, TX
Infiniti | Heath High School, Heath, TX
Lovejoy A Cappella | Lovejoy High School, Lucas, TX
MadAve (Madison Avenue) | Madison High School, San Antonio, TX
Madrigal | Belton High School, Belton, TX
Mane Attraction | Sachse High School, Sachse, TX
Remedy | Argyle High School, Argyle, TX
Spur of the Moment | Sachse High School, Sachse, TX
Vocal Legacy | Bryan High School, Bryan, TX
VOLT | Lebanon Trail High School, Frisco, TX
Walk the Line | Rockwall High School, Rockwall, TX
____________________________________

Quarterfinal 1: Friday, January 26, 2024, Sherwood High School, Sherwood, OR
Free to Breathe | Sunset High School, Portland, OR
Mixolydians | Sherwood High School, Sherwood, OR
Scots-Appella | McKay High School, Salem, OR
Soundscape | West Salem High School, Salem, OR
Synergy | Oregon Children's Choir, Eugene, OR
Vivace | Lincoln High School, Portland, OR
The Dynamics | Bishop Amat Memorial High School, La Puente, CA
The Pionaires | Sandy High School, Sandy, OR
Soul'd Out | Wilsonville High School, Portland, OR
Quarterfinal 2: Saturday, February 10, 2024, John Burroughs High School, Burbank, CA
Downbeat | The Harker School, San Jose, CA
In Tone Nation | Gila Ridge High School, Yuma, AZ
OC Voices | Oaks Christian School, Thousand Oaks, CA
Neo Chromatics | John Burroughs High School, Burbank, CA
Pinewood Take Note | Pinewood School, Los Altos Hills, CA
Squad Harmonix | Laura Jean Music Academy, Santa Monica, CA
Titanium | Tesoro High School, Las Flores, CA
Wolf PACappella | Pacifica Christian High School, Santa Monica, CA
Quarterfinal 3: Friday, February 16, 2024, Del Valle Theater, Walnut Creek, CA
Amplify | Rise Up Children's Choir, Salt Lake City, UT
Continuum | Pacific Boychoir Academy, Oakland, CA
MYST | MST Music Academy, Fairfield, CA
The hOWLers | The Athenian School, Danville, CA
Treble Threats | Aliso Niguel High School, Aliso Viejo, CA
Treble With Angels | Aragon High School, San Mateo, CA
We Got Treble | Chico High School, Chico, CA
Semifinal: Saturday, March 9, 2024, El Segundo Performing Arts Center, El Segundo, CA
Featuring the top 3 groups from each quarterfinal
____________________________________

ICHSA FINALS
Friday, April 26th, 2023 at The Town Hall, New York, NY
Featuring the semifinal champion from each region and the Wild Card champion