Our 21st ICCA season is right around the corner, and it's shaping up to be one of the best yet!
Congratulations to all of the groups accepted to the 2017 ICCA! This coming year, there are 5,645 performers in 367 groups from 210 different colleges and universities in 177 different cities across 35 states competing in our tournament this year — and that's not counting the UK competitors (whose deadline to apply is today!).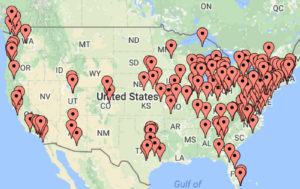 We have 8 regions in the US and Canada, one UK region, and one wild card. 10 groups will make it to 2017 ICCA Finals in New York City to represent the world's best in a college a cappella.
Unfortunately, there are some areas where we had to eliminate groups. If you don't see your group's name on the list, we hope we'll hear from you again next season. Be sure to attend an ICCA event — they're a great learning experience, even from the audience.
We are still in the process of placing groups in their quarterfinal events, so stay tuned and that information will be made available in the near future.
gold
Tickets for most quarterfinal and semifinal rounds go on sale on December 1. Follow us on Facebook and Twitter for a reminder! Please remember that many events do sell out in advance, so we recommend picking up tickets in advance of your show.
Congratulations to our accepted groups, and welcome to the 21st season of the International Championship of Collegiate A Cappella!
Please note that the listings below were posted on November 15th, are subject to change, and will not be updated here if they do change. Please see our events page for up-to-date listings of our events and their participants. Thanks!
(Click here to see the 2017 ICHSA Competitors!)
---
2017 International Championship of Collegiate A Cappella Lineup
Central Region
2/4/2017 Rochester University, Larry and Cindy Bloch Alumni and Advancement Center Auditorium
Brick City Singers | Rochester Institute of Technology
Call4Backup | Nazareth College
Golden Notes | Wilfrid Laurier University's Brantford Campus
Macappella | McMaster University
Nuance | The University of Akron
The Coda Conduct | Pennsylvania State University
The Enchords | University at Buffalo
Tributones | Monroe Community College
University of Rochester YellowJackets | University of Rochester
Vocal Point | University of Rochester
2/11/2017 Bowling Green High School, Bowling Green High School Performing Arts Center
Carmony | The Ohio State University at Lima
Flash Harmony | Kent State University
None of the Above | Pennsylvania State University
Ottertuned | Otterbein University
Pitch Black | Ohio Wesleyan University
SŌL | Baldwin Wallace University
Ten40 Acappella | Bowling Green State University
The Buffalo Chips | University at Buffalo
The Kent Clarks | Kent State University
The Ransom Notes | Kenyon College
2/18/2017 Ithaca High School, Kulp Auditorium
C Flat Run | University of Pittsburgh
IC Voicestream | Ithaca College
Otto Tunes | Syracuse University
Pittch Please | University of Pittsburgh
Rhythm and Roos A Cappella | The University of Akron
TBA. Tunes. Beats. Awesome. | University of Toronto
The Binghamton Crosbys | Binghamton University
The Class Notes | Cornell University
2/25/2017 SUNY Potsdam, Helen M. Hosmer Concert Hall
A Sharp Arrangement | SUNY Potsdam
Harpur Harpeggios | Binghamton University
Stay Tuned | SUNY Potsdam
The Musical InterDudes | University of Waterloo
The Potsdam Pitches | SUNY Potsdam
The Potsdam Pointercounts | SUNY Potsdam
The Unaccompanied Minors | University of Waterloo
The Water Boys | University of Waterloo
UltraVioleTones | Clarkson University
3/4/2017 Carnegie Mellon University, Soldiers and Sailors Hall
Acapella Stella | California University of Pennsylvania
C# Singers | Carnegie Mellon University
Counterpoint | Carnegie Mellon University
Isolated Incident | California University of Pennsylvania
Pitches & Tones | University of Pittsburgh
Sounds Like Treble | University of Pittsburgh
Soundbytes | Carnegie Mellon University
The Songburghs | University of Pittsburgh
Treblemakers | Carnegie Mellon University
Vulcanize | California University of Pennsylvania
Mid-Atlantic Region
1/28/2017 Drexel University, Main Auditorium
Echoes | Lehigh University
High Street Harmonix | West Chester University
Melica | Elizabethtown College
Off the Record | Lehigh University
Soulfege | Lafayette College
The Drexel Cleftomaniacs | Drexel University
The Villanova Supernovas | Villanova University
TrebleMakers | Drexel University
Under A Rest | West Chester University
2/4/2017 Univeristy of Maryland, Dekelboum Concert Hall
DaCadence | University of Maryland
General Admission | Washington and Lee University
PandemoniUM | University of Maryland
Redline A Cappella | The Catholic University of America
The GW Vibes | George Washington University
The One Note Stand | University of Mary Washington
The Treblemakers | University of Maryland
Unaccompanied | James Madison University
2/4/2017 Rowan University, Pfleeger Concert Hall
A Whole Step Up | Lehigh University
Rowan Vocals (RoVo) | Rowan University
Stockapella | Stockton University
Superfood | Georgetown University
The Nightingale A Cappella (TNA) | St. Mary's College of Maryland
The Rider Vibes | Rider University
The Trentones | The College of New Jersey
The YChromes | University of Delaware
Till Further Notes | Rider University
2/11/2017 College of Staten Island Center for the Arts, Springer Concert Hall
Casual Harmony | Rutgers University
InterChorus | St. Mary's College of Maryland
Makin' Treble | Hofstra University
Paws and Rewind | Adelphi University
Sigma'cappella | Hofstra University
The Hofbeats | Hofstra University
The Lehigh Melismatics | Lehigh University
The Outskirts | Haverford College
The Richmond Octāves | University of Richmond
The Stony Brook Vocalists | Stony Brook University
2/25/2017 John Hopkins University, Shriver Hall
BelleTones | Frostburg State University
Music Dynasty | Johns Hopkins University
Notes of Ranvier | Johns Hopkins University
Squawkappella | Salisbury University
The Trills | Towson University
The Vocal Chords | Johns Hopkins University
UMBC Cleftomaniacs | University of Maryland, Baltimore County
UMBC Mama's Boys | University of Maryland, Baltimore County
Vocal Point | University of Delaware
Xenharmonics | Frostburg State University
Great Lakes Region
1/21/2017 University of Chicago, Mandel Hall
Counterpoint Acapella | Loyola University Chicago
Downtown Voices | University of Illinois at Chicago
Gold Vibrations A Cappella | Oakland University
Illinois Rip Chords | University of Illinois at Urbana-Champaign
No Comment | University of Illinois
Ransom Notes | University of Chicago
Rhythm and Jews | University of Chicago
The Northwestern Undertones | Northwestern University
The Xtension Chords | University of Illinois at Urbana-Champaign
Treblemakers | Northwestern University
1/28/2017 Skyline High School, Auditorium
58 Greene | University of Michigan
Amazin' Blue | University of Michigan
Capital Green A Cappella | Michigan State University
Kopitonez | University of Michigan
Maize Mirchi | University of Michigan
No Strings Attached | Western Michigan University
On the Rox | Central Michigan University
The Michigan G-Men | University of Michigan
The WMU Broncords | Western Michigan University
2/4/2017 University of Wisconsin, Shannon Hall
7Days A Cappella | University of Minnesota – Twin Cities
Northern Lights a Cappella | Northern Michigan University
Pitches and Notes | University of Wisconsin Madison
The Carthachords | Carthage College
The Enchantments | University of Minnesota – Twin Cities
The Marquette Naturals | Marquette University
The Meladies | Marquette University
Under A-Rest | University of Wisconsin Madison
Vocal U a Cappell | University of Minnesota – Twin Cities
Voices in Your Head | University of Chicago
2/11/2017 Dekalb High School, Auditorium
Acafellaz | Illinois State University
Clef Hangers | Illinois State University
Dicks and Janes A Cappella | University of Michigan
Fundamentally Sound | University of Wisconsin Madison
Huskie Hunks | Northern Illinois University
No Strings Attached | University of Illinois at Urbana-Champaign
Secondary Dominance | Illinois State University
Sonata Problem | North Central College
The Harmelodics | Northern Illinois University
Unseen: Christian A Cappella | University of Illinois at Urbana-Champaign
2/18/2017 Grand Ledge High School, Grand Ledge High School Performing Arts Center
A Cappella Groove | Grand Valley State University
Central Harmony | Central Michigan University
Euphoria | Grand Valley State University
Fish N Chips | Central Michigan University
Ladies First | Michigan State University
Midnight Snack | Grand Valley State University
MSU Accafellas | Michigan State University
RCAHppella | Michigan State University
State of Fifths | Michigan State University
The Sopranos | University of Michigan
Midwest Region
2/4/2017 University of Washington in St. Louis, 560 Music Center
Bare Naked Statues | Saint Louis University
Decadence A Cappella | St. Louis University
Eastern Euphonics | Eastern Illinois University
Minor Detail | Truman State University
Majors & Minors | The Ohio State University
Silence Interrupted | Illinois Wesleyan University
The Amateurs | Washington University in St. Louis
The High Howlers | University of South Dakota
Touch of Class | Illinois Wesleyan University
True Men | Truman State University
2/11/2017 Ball State University, Pruis Hall
EQ Blu | Murray State University
Halftime | University of Notre Dame
Hooshir A Cappella | Indiana University
Ladies' Choice A Cappella | Ball State University
Note to Self | Ball State University
Sedoctave | Ball State University
The Echoes | University of Notre Dame
The Parallels | Ball State University
Unexpected Resolution | Ball State University
2/11/2017 University of Washington in St. Louis, 560 Music Center
Astha A Cappella | Saint Louis University
Bathtub Dogs | University of Nebraska-Lincoln
Beyond All Reason | Saint Louis University
Iowa Hawkapellas | University of Iowa
Smooth Benediction | Mount Marty College
The Creightones | Creighton University
The Ghost Lights | Washington University in St. Louis
The Naturelles | University of Missouri
The Sensasians | Washington University in St. Louis
The Stereotypes | Washington University in St. Louis
2/25/2017 Centerville High School, Centerville High School Performing Arts Center
Audio Pilots | University of Dayton
Mosaic Whispers | Washington University in St. Louis
Remedy | University of Dayton
Scarlet and Grace Notes | The Ohio State University
Soul2Soul A Cappella | Miami University
Sound of Science | The Ohio State University
The Miami Misfitz | Miami University
The Ohio State of Mind | The Ohio State University
UC Junoon | University of Cincinnati
UC Vocaholics | University of Cincinnati
2/25/2017 Missouri State University, Plaster Student Union
1-2-5 | Hastings College
A Cub Bella | Missouri State University
Boots & Cats | University of Nebraska-Lincoln
Crimson and Blues | University of Kansas
Genuine Imitation | University of Kansas
Mizzou Forte | University of Missouri
Pitch, Please! | University of Nebraska-Lincoln
RainbowTones | University of Central Missouri
The Beartones | Missouri State University
The Hibernotes | Missouri State University
Northeast Region
2/4/2017 Berklee College of Music, Berklee Performance Center
For Good Measure | Emmanuel College
L'shir | University of Hartford
Simmons Sirens | Simmons College
The Box Combo | Boston University
The Harvard LowKeys | Harvard University
The Nor'easters | Northeastern University
The Suffolk Ramifications | Suffolk University
Tonal Recall | Colleges of the Fenway
Treble Threat | Berklee College of Music
2/11/2017 Tufts University, Cohen Auditorium
Acappellics Anonymous | Emerson College
Distilled Harmony | Northeastern University
New Hampshire Notables | University of New Hampshire
Off the Clock | Bentley University
S#arp Attitude | The University of Massachusetts Amherst
Sons of Pitches | College of the Holy Cross
The Bottom Line | Bryant University
The Rhody Rhapsodies | University of Rhode Island
The Vocal Suspects | The University of Massachusetts Amherst
UMass Lowell Hawkapella | University of Massachussettes – Lowell
2/18/2017 Berklee College of Music, Berklee Performance Center
Acapocalypse | Emmanuel College
Boston University Treblemakers | Boston University
Harvard-Radcliffe Veritones | Harvard University
Ssockapella | Salem State University
The Boston University Allegrettos | Boston University
The CharlieChords | Berklee College of Music
The Downbeats | Northeastern University
The Harvard Callbacks | Harvard University
Treble on Huntington | Northeastern University
Upper Structure | Berklee College of Music
2/18/2017 New York Society for Ethical Culture
NYU N'Harmonics | New York University
The Chorallaries of MIT | Massachusetts Institute of Technology
The F#s | Fordham University
The Hot Notes | Fordham University
The Mixtapes | New York University
The Vocaholics | New York University
Tizmoret | Queens College
Tonal Recall | Pace University
Triplets | Macaulay Honors College at CUNY
Vocollision | New York University
2/25/2017 Rensselaer Polytechnic Institute, Experimental Performing Arts Center
A Minor | University of Connecticut
Choral Pleasure | Purchase College at SUNY
Divisi | Central Connecticut State University
Hooked on Tonics | SUNY Oneonta
Partial Credit A Cappella | Rensselaer Polytechnic Instititute
Pitch Please! | University at Albany
The Golden Notes | The College of Saint Rose
The Rusty Pipes | Rensselaer Polytechnic Institute
The Sexy Pitches | SUNY New Paltz
UHarmonies | The University of Hartford
Northwest
1/28/2017 Rolling Hills Community Church
15 Miles West | Western Oregon University
Blue Light Special | Linn-Benton Community College
Divine | Oregon State University
Green Note | Portland State University
Hilltop Harmony | Corban University
Mind the Gap | University of Oregon
Outspoken | Oregon State University
Power Chord | Oregon State University
Quakers & Notes | George Fox University
The Sirens | Linn-Benton Community College
1/28/2017 Utah Valley University, Ragan Theatre
Beyond Measure | BYU
Duenna | Brigham Young University
In The Buff | University of Colorado Boulder
In the Stairwell | United States Air Force Academy
Infrared Acappella | University of Utah
Perfect Day | Brigham Young University
VoiceLine | Utah Valley University
2/25/2017 Fox Theatre
Acquire A Cappella | University of California Santa Cruz
Chinese A Cappella at Berkeley (BCA) | University of California, Berkeley
Cloud 9 A Cappella | University of California, Santa Cruz
Dil Se | University of California, Berkeley
Dulcet | Southern Oregon University
Stanford Mendicants | Stanford University
The Liquid Hotplates | University of California, Davis
UC Men's Octet | University of California, Berkeley
2/25/2017 Mount Baker Theatre
Eh? Cappella | University of British Columbia
Furmata A Cappella | University of Washington
HERmonic | Pacific Lutheran University
Major Treble | Western Washington University
Nada Cantata | Central Washington University
PLUtonic | Pacific Lutheran University
Polina Davydov | University of Puget Sound
Rebel Clef | Western Washington University
The Fantastic Beats | University of British Columbia
South Region
1/21/2017 Leon High School, Main Auditorium
Coda A Cappella | Florida State University
Gemini Blvd | University of Central Florida
Mixed Mode | University of Central Florida
So Noted | University of Central Florida
The Acaphiliacs | Florida State University
The Riff Tides | Nova Southeastern University
The Sedoctaves | University of Florida
UNCW Seabelles | UNC Wilmington
1/21/2017 University of Tennessee, Cox Auditorium in the Alumni Memorial Building
Beyond Measures | University of Alabama at Birmingham
Enharmonix | Appalachian State University
Harmonic Notion | Vanderbilt University
High Mountain Harmony | Lees-McRae College
Prismatics | Belmont University
The Beltones | Belmont University
The RoaNotes | Roanoke College
UT Singers | University of Tennessee
VOLT | University of Tennessee
2/4/2017 The Carolina Theater
Acappology | North Carolina State University
Extreme Measures | Christopher Newport University
Ladies in Red | North Carolina State University
No Ceiling | College of William & Mary
reVOLution | University of Tennessee
Rhythm & Blue | Duke University
The Tarpeggios | The University of North Carolina at Chapel Hill
The UNCG Spartones | University of North Carolina – Greensboro
UNC Walk-Ons | The University of North Carolina at Chapel Hill
UNCG Sapphires | University of North Carolina – Greensboro
2/11/2017 Morton Theater
Dooley Noted | Emory University
Infinite Harmony | Georgia Tech
Pretty Major | Kennesaw State University
Mercer Bearitones | Mercer University
Nothin' but Treble | Georgia Institute of Technology
Sweet Signatures | Elon University
Sympathetic Vibrations | Georgia Tech
UGA Noteworthy | Univerity of Georgia
Vital Signs | Elon University
Volume | University of Tennessee
2/25/2017 University of Florida, Phillips Center for Performing Arts
Above the Keys | University of Miami
BisCaydence | University of Miami
Gestalt | University of Florida
HEARTbeats | Florida International University- Honors College
KeyHarmony | University of Central Florida
No Southern Accent | University of Florida
Standing Room Only | University of Florida
The 18th Notes | University of Miami
Tone Def A Cappella | University of Florida
Voicebox | University of Central Florida
Southwest Region
1/21/2017 Rudder Auditorium, Texas A&M
Fuse A Cappella | The University of Texas at Austin
HardChord DynaMix | Texas A&M University
The Echoes | Texas State University
The Rice Philharmonics | Rice University
The Texas Songhorns | The University of Texas at Austin
VirtuOSO | Baylor University
2/4/2017 Scottsdale Center for the Performing Arts, Virginia G. Piper Theater
Amplified A Cappella | University of Arizona
CatCall A Cappella | University of Arizona
Enharmonic's A Cappella | University of Arizona
NAU Elevation | Northern Arizona University
Priority Male | Arizona State University
The Axecidentals | Northern Arizona University
The Devil Clefs | Arizona State University
The Highlanders | Northern Arizona University
The TEMPEtations | Arizona State University
2/4/2017 University of California, San Diego, Mandeville Auditorium
Daughters of Triton | University of California, San Diego
Fermata Nowhere | Mt San Antonio College
Men of Harmony | Chapman University
The Accidentals | Occidental College
The Beat @ UCSD | University of California, San Diego
The ChapTones | Chapman University
The SoCal VoCals | University of Southern California
The Tritones | University of California, San Diego
2/11/2017 Pomona College, Bridges Auditorium
Acasola | California State University, Northridge
Asli Baat | University of Southern California
Medleys A Cappella | University of California, Los Angeles
Midnight Echo | The Claremont Colleges
Naked Voices | University of California, Santa Barbara
Not So Sharp | University of California, Riverside
Resonance | University of California, Los Angeles
ScatterTones | University of California, Los Angeles
2/18/2017 The Riley Center, Truett Auditorium
Green Tones | University of North Texas
Here Comes Treble | Texas Christian University
License to Trill | Texas Christian University
OneSound | Collin College
RISE | University of Texas at Arlington
Stampede | Southern Methodist University
The Horned Tones | Texas Christian University
Unaccompanied | Northern Arizona University
United Kingdom Region
21/1/2017 Imperial College London, Great Hall
Cadenza | University of Cambridge
Imperielles | Imperial College London
Surcery | Imperial College London
The Rolling Tones | Kings College, London
The Scopes | Imperial College London
5/2/2017 Northcott Theatre, Exeter
Aquapella | University of Bath
Illuminations | University of Exeter
Pitch Fight | University of Bristol
Semi-Toned | University of Exeter
Sweet Nothings | University of Exeter
The Bluebelles | University of Exeter
The Bristol Suspensions | University of Bristol
19/2/2017 Queens Hall, Edinburgh
Aberpella | University of Aberdeen
Northern Lights | Durham University
The Accidentals | The University of St Andrews
The Alleycats | The University of St. Andrews
The Cosmopolitones | University of Leeds
The Other Guys | University of St Andrews
The Songsmiths | University of Leeds