Judging
Thoughtful feedback from the industry's top pros
We take pride in providing fair, balanced, and high-quality feedback and constructive criticism to our competitors.
Judging Forms
This is the evaluation form and the definitions of the criteria that our judges use in evaluating competitors:
Varsity Vocals Judging Score Sheet
Varsity Vocals Judging Category Summary Sheet
We strongly encourage groups to use these forms in preparation for competition.
Judging Panels
There will be three to five judges at quarterfinals, and five judges at semifinals and finals.
Each of judge has the responsibility to critique the performances in the following categories: Vocal Performance, Visual Performance, and Subjective Rank. The judges will determine these scores individually and without deliberating among themselves.
All scores will be tabulated by a Varsity Vocals staff member and approved tabulators. When there are five judges, the highest and lowest total scores will be discarded. First, second, and third place winners will be recognized according to their final scores.
Groups who exceed the ten minute time limit may be penalized by one place, at the discretion of headquarters.
Special Awards
Judges will deliberate in selecting recipients of special awards in the following categories: Outstanding Soloist, Outstanding Arrangement, Outstanding Vocal Percussion, and Outstanding Choreography. These awards are not required and may be given at the judges' discretion.
Outstanding Choreography can be awarded to a choreographer only if they are a current member of the group. If choreography for a song was a group collaboration, the group is eligible for this award.
Outstanding Arrangement can be awarded to an arranger only if they are a current member of the group. If arrangement for a song was a group collaboration, the group is eligible for this award.
Outside choreographers and arrangers are NOT ELIGIBLE for special awards.
Ethics and Conflicts of Interest
Our adjudicators are vocal music professionals who have been certified by Varsity Vocals to evaluate our performers. As part of this process, they are required to maintain the highest ethical standards and practices in all judging activities. Judges who do not uphold these standards may be suspended or have their certification revoked.

A school or university affiliation is not adequate to preclude a certified adjudicator from serving on a panel. Other potential conflicts of interest will be handled at the discretion of headquarters.

In the event that a Varsity Vocals staff member is present during this deliberation, he or she may not cast a vote or influence the judges in any way. When necessary, an external moderator will take the place of the staff member.

Judges deserve to be treated with respect from our competitors and their friends, families, and fans. Penalties for abusive behavior toward judges, including from directors, students, and parents, may include disqualification from future Varsity Vocals competitions.
Judge For Us
If you are a music educator, performer, or an experienced a cappella practitioner, get in the judge's seat!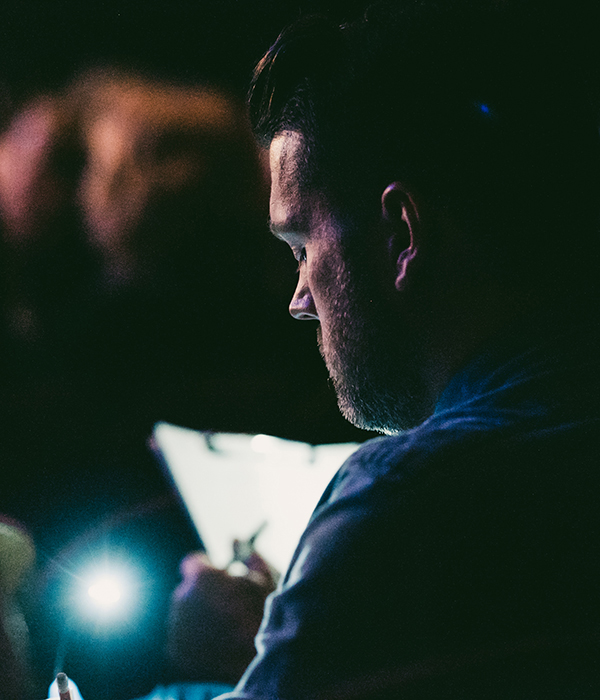 "Participating in the ICCA or ICHSA is valuable for any group, whether they place or not. The feedback that groups get from some of the top ears and voices in a cappella today is something you just can't get anywhere else!"